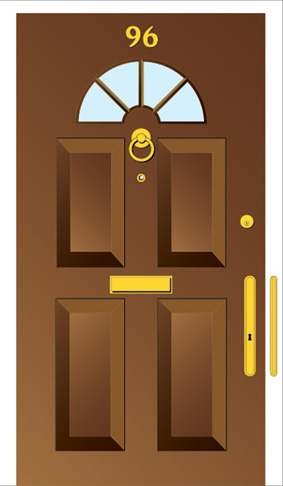 Burglary Prevention - Door Security
HOW SECURE IS YOUR DOOR?
Kickstop London Bar anti-burglary door frame reinforcers are supplied to United Kingdom private, commercial, Local Authority and Housing Association customers - who need to strengthen and reinforce timber door frames against attack and forced entry.
Using this online shop, you may also purchase other product from the range of Kickstop reinforcing and anti-jemmy products to resist 'kick-in' type burglaries.
Tel: 01536 790999 Fax: 01536 790710 E-mail: sales@londonbar.com
Home Office statistics show that 71% of burglars target the doors of a property, usually by forcing a lock - October 2004.
Until they've experienced a 'kick-in' burglary, most people aren't aware that chiselling and removing wood to fit locks will unavoidably result in much weakened door security.
Because fitting most door locks involves removing wood, the weakened door or frame will split open around the locks and hinges during a forced attack or 'kick-in' burglary - unless extra measures are taken to strengthen the door and frame by fitting a London Bar, Birmingham Bar, Lock Guard, Frame Guard, Hinge Guard or Anti-Thrust Plate.
Kickstops do not require locking, bolting or activating and therefore cannot be forgotten. They provide greatly enhanced physical strength and security constantly - each time the door is closed and locked.
Kickstop products are not additional locking devices and are designed to reinforce and strengthen the door and the door frame around the existing locks and hinges.
On improved security, the Metropolitan Police and many other police forces recommend fitting various products including a London bar, Birmingham bar, a lockguard kit, frameguard and hinge guard.
For several years now, Target Hardening programmes throughout Britain have used Kickstops - to great effect.
These products from the Kickstop range are currently available at January 2002 trade prices.
KICKSTOP REINFORCER PRODUCTS for INWARD OPENING DOORS
KICKSTOP SECURITY PRODUCTS for GLAZED or WEAK DOOR PANELS
KICKSTOP ANTI-JEMMY DEVICES for OUTWARD OPENING DOORS
All copyright text and graphics are used with the express permission of Kickstop Security Products Ltd
All Kickstop Registered Designs and Trademarks are Patent Office protected and are the legal property of Kickstop Security Products Ltd
All artwork, text and graphics is and shall remain the property of Kickstop and cannot be reproduced for commercial purposes except as expressly provided in any prior written agreement from Kickstop Security Products Ltd